"Try as they will, and try as they might, who steals me gold won't live through the night." The Leprechaun; Leprechaun (1993)
a Primal Root written review
The realm of mythical creatures is a veritable smorgasbord of imagination fuel and inspiration lubricant. From Trolls, to Goblins even Fairies, Dwarves and Elves. All can be extracted from the whimsical and often deeply unsettling tales and transplanted into a low-rent schlocky monster movie destined to go straight to video and find it's cult following. It's all just old world make believe where you can either choose to follow the rules already established in centuries of story telling, come up with your own bullshit to justify your no budget monster movie, or pick and choose some of both, toss them in your screenplay blender, and you'll nearly make something at least entertaining 95% of the time.
Then there's 1993's Leprechaun, the film that sent the elementary school video rental kid into a tizzy as we reeled at the concept of something so absurd being transformed into something absolutely terrifying. It felt dirty, it felt cheap and it was genuinely unnerving to little kid Root, who grew up with children's programming and sugary sweet cereal that ALWAYS portrayed Leprechaun's as incredibly sweet creatures. Then you would catch the fucking trailer for Leprechaun and you had to reevaluate everything you once held sacred. It honestly wasn't until Iw as about 11 or 12 when I finally got around to renting The Leprechaun and, well, it certainly didn't live up to the unrelenting horror I had dreamed up in my head while looking at the VHS box on the shelf at Video 21. Sure, it's not a very successful horror film, but it does have it's…LUCKY charms. Uuughhh…I'm not even a Dad and I made that joke.
The Leprechaun franchise, which runs eight films long and provided Warwick Davis paychecks during those dark days before the Harry Potter film series and Disney hadn't yet bought the rights to Star Wars and begun shitting out empty husks of nostalgia, and sent the pint sized horror the the far off reaches of outer space (Leprechaun 4: In Space) to the the center of urban decay…TWICE (Leprechaun in the Hood, Leprechaun Back 2 Tha Hood). But it all began humbly enough back in 1993 with a little farm house in the middle of nowhere, a stolen bag of gold and yet to be known Friend.
The movie starts in 1983 with a sweaty, whiskey drenched old Irish guy named Dan O'Grady coming back home to his North Dakota farm house from his trip to Ireland and brags to his wife that he has stolen gold from a Leprechaun and that this is the last they'll see of this old piece of shit farm! He goes to hide the gold, The Leprechaun turns out to have followed O'Grady home and murders Mrs. O'Grady by tossing her down the basement stairs before Dan grabs a four leaf clover and traps the Leprechaun in a crate down in the basement. O'Grady pours gasoline on the crate, strikes a match…then suffers stroke and falls to the floor before he gets the chance to torch the little malicious magical monster.
Fast forward to 1993 and and Father and Daughter duo, J.D. Redding (John Sanderford) and Tory (Jennifer Aniston. Yes, THAT Jennifer Aniston) are driving out to North Dakota to live in the old, abandoned O'Grady farm house. As you might suspect, Jennifer Aniston's character is a none stop whining, complaining, bitch of a character which feels king of like her entire career trajectory. Honesty, could you point me out a Jennifer Aniston character that is actually no a self obsessed spoiled shrew? Seriously, she has been playing the same character for decades with the same inflection, line delivery and mannerisms. She's unbearable as ever, here, as rich, vegan, Evian water drinking wet blanket, Tory. Get used to it, because you're going to spending a whole lot of time with her.
Tory hates the place (SURPRISE, SURPRISE!) and makes plans to stay in a hotel until she meets a slab of beefcake painting the farm house who goes by the name of Nathan (Ken Olandt of April Fool's Day & Summer School fame ) who mentions how "Girls are always afraid of spiders and dust" which brings out Tory's feminist tendencies and, now, refuses to leave because she is a 90's woman and not afraid of anything despite actually stating that she IS afraid of spiders, dust, dirt and manual labor not three minutes before. But, now she has something to prove to the hunky Nathan, so she will continue to miserable and complain for the length of the film.
We are son introduced to the two most likable Non-Leprechaun characters in the film, Alex and Ozzie, who work with Nathan and his "Three Guys Who Paint" business . Alex (Robert Hy Gorman from Rookie of the Year & Don't Tell Mom The Babysitter's Dead) is Nathan's 10 year old brother and Ozzie (Mark Holton from Pee-Wee's Big Adventure & Teen Wolf) a man-child sort of fellow. These two banter, bicker and end up being the characters in charge of keeping to plot moving forward. Ozzie is the one who unleashes the Leprechaun from the crate while alone in the basement, and is threatened with having his ear bitten off and having it turned into a boot if he doesn't fork over his stolen gold. It's a baffling threat, but one I really like and have filed away to use at the proper moment in my own life when someone is giving me shit. Freddy never makes these kinds of intimidating aggressions. His is mostly observational puns, not really "I'm going to rip off this from your body and repurpose it entirely." But, I digress…
For the first half of the movie we basically get all the character mistaking The Leprechaun for an animal. Someone sees or feels something, claims it's a Leprechaun, then it is blamed on a rat or a cat. I was personally hoping for someone to blame something on a bat so we could get the "at" trifecta in play, but it never happened, sadly. J.D., Tory's Dad, even makes the idiotic mistake of reaching his entire fucking arm into a tree to try and GRAB what he thinks is an injured cat only to have his hand nearly bitten of by The Leprechaun. They rush poor old Pop to the hospital and we literally never see him again.
Meanwhile, Ozzie and Alex chase down the end of a rainbow which leads to an abandoned truck where Dan O'Grady stashed the stolen gold all those years ago. After Ozzie accidentally swallows a gold coin while attempting to bite it and prove that it's real, (oh, Ozzie) they take the sack of coins into town and leave a coin over night with a rare coin specialist. But as the specialist goes to open up his safe to hide gold coin for the night, out busts The Leprechaun with a jig, a laugh, and well placed snaggle-toothed voracious bite to what is either the man's upper leg for dangling ball sack. One thing must be mentioned about this film, the lighting is absolutely horrendous. Either the lighting it dull and flat as shit or it's pitch black where you can hardly tell what's happening. So, either way, Lep bites the shit out of the guy and drop him to the ground before threatening the guy in rhymes and then grabbing and nearby pogo stick, and I shit you not, pogo sticking the man to death. Yes, The Leprechaun gets on the pogo stick and bounces repeatedly on the mans chest while singing, "This old Lep, he played one, he played pogo on his lung!" In all honestly, this movie comes to life and becomes a Hell of a good time whenever Warwick shows up as The Leprechaun. The man is over the top, malicious and funny as shit. You can tell the guy is relishing the chance to play such an animated villainous character and is taking full advantage of the role.
Soon, that night there is a brutal standoff at the old O'Grady farm house where the Leprechaun is willing to stop at nothing until he gets all 100 gold coins back. There's even an exceptionally goofy action set piece where the Leprechaun hides out int he kitchen cabinets and Jennifer Aniston is throwing them open to Nathan can blast the shit out of them with his shot gun, only The Leprechaun is too quick and keeps taunting the hapless heroes which leads to Leprechaun reaching his arm out of a drawer and clamps his claws around Nathan's nuts and squeezes them like a pair of grapes. It's a hilarious moment and genuinely one of the few comedic moments that really work.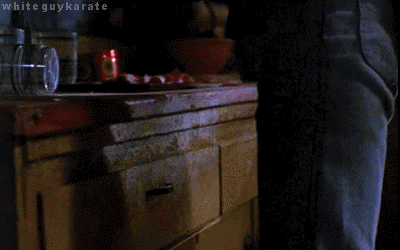 This final half of the film feels like it consists of none stop chases where The Leprechaun tries out multiple modes of transportation to catch his victims. He tries roller skates, go-carts, hospital gurneys, wheel chairs, modified tractors, etc. They speed up the film to make it look like he just might catch them, but it ends up looking ridiculous and just makes you chuckle.
Towards the end of the film. Jennifer Aniston gives The Leprechaun his sack of gold, only for The Leprechaun to realize there's a single could missing and it's currently making it's way through Ozzies poop chute. The Leprechaun gives chase to Ozzie and begins slashing the hell out of the guy with his boot buckle to try and get his gold back. Will Ozzie end up having his guts ripped out by The Leprechaun? Will Jennifer Aniston's STOP complaining for a moment and try to help someone? While Nathan perhaps display some simple competence and maybe notice, after shooting The Leprechaun for the 100th time, filling The Lep full of led DOESN'T WORK? With Alex use his cunning slingshot skills to win the day? You'll have to check out Leprechaun to find out!
There is one shining, glittering bit of solid gold in the film Leprechaun and it is obviously Warwick Davis. The man has brought to life countless popular characters and his turn as The Leprechaun is truly a treat to behold. The man brings so much life to what is otherwise a shockingly dull, bland and dishearteningly unimaginative slog. Whenever Warwick is on screen, you forget how bored you've been for the last several minutes and it keeps you hooked and waiting for his next goofy, fun, nasty over the top appearance. The kills, besides the pogo stick death, are all underwhelming. There's an extended foot chase with a police office through the woods you anticipate will have a great death scene, but instead, The Leprechaun simply snaps the police officer's neck. Dude, this scene takes up what feels like fifteen minutes of screen time and all you can deliver is the actor turning his head and adding the sound of someone snapping celery? Shit like that is fucking annoying. You spend that much time chasing someone in a slasher movie, you better make it worth the time.
Leprechaun almost come off like a PG-13 horror flick. There's literally no sexuality whatsover. Not a pair of bare breasts in sight. The gore is hardly there. There's some bloody stuff, including an eye removal, but this content would probably be presented on prime time television without even needing to be censored. It almost feels like it was made for TV and has a kind of flat, poorly produced hollow quality to it. It's the very bare beginnings of a franchise I really feel gets better as it goes and the more outlandish and silly the story devices become. By the time The Leprechaun heads to space, the creative minds behind the ongoing series realized that campiness works REALLY well for the series. Plus they realized sex and violence are ALSO why I'm spending my money and time on this, so they began shoehorning tits and more gore as the series continued and got far more creative with the stories they had to tell.
Leprechaun (1993) is that cinematic rarity, a first entry in the series that just might be the least interesting. All the elements and ideas are there for the taking, and thankfully, those franchise entries that came in the original's wake took full advantage of the possibilities this pint sized mythical monster has to offer.
I'm awarding Leprechaun ONE AND A HALF out of FIVE Dumpster Nuggets.
The true Pot o' Gold is further on this rainbow of a series.
Stay Trashy!
-Root