"FRIED CHICKEN AND FRENCH FRIES!" – Peter Hotten as Axel, Night Killer (1990)
a Primal Root written review
1990 was filmmaker Claudio Fragasso's year, man. In 1990 his magnum opus, most fully realized and beloved film Troll 2 saw the light of day as a direct to video release. It's a film that has gained an ever expanding and rabid fanbase with it's bizarre concepts, lost in translation screenplay, goofball acting and bargain basement effects mingling with it's genuine nature basically guaranteed it would find an audience over the years to laugh and cherish it for it's bonkers presentation.
But, a far lesser known darker, more adult and, until recently, incredibly difficult to find offering from Claudio Fragasso was released in 1990 under the title Night Killer. It's film that, too, has gained cult status for many the same reasons as Troll 2, even enjoying a similar retitling to try and sell it as a sequel to something it was never intended to be. Italian producers actually retitled the thing Non Aprite Quella Porta 3, which translates to Texas Chainsaw Massacre 3, therefore making Night Killer Italy's unofficial third sequel to Tobe Hooper's legendary Texas Chainsaw Massacre despite Night Killer not featuring a single chainsaw in any shot of the film much like Troll 2 only featured Goblins…and not a single goddamn Troll.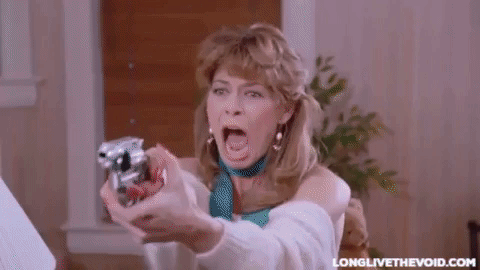 Night Killer begins with a spastic and, frankly, embarrassingly bad dance rehearsal for some kind of on stage production. One of the performers arrives late, gets naked and then then punched entirely through the gut by a killer is a strange, creepy fright mask that looks like it might have been left in the car too long on a hot summer day, as it appears more than a little melty. Not only that, but the killer is also wearing a dark trench coat and highly rubbery Freddy Krueger inspired glove on his right hand featuring long corn cob yellow finger nails. When you put all the pieces together, The Night Killer actually kind of looks like Freddy Krueger and The Toxic Avenger's love child.  So, after we see the late dancer's bare breasts, she is impaled and dies. Farewell and adieu to you bare breasted lady!
Noticing her absence and also having the epiphany that whatever fucking musical dance show she is directing is going to suck goat balls, the musical's director flies into a bizarre, seemingly unscripted improvised rage where she mumbles a lot, and stumbles over what she's saying before storming off the stage to find the late performer who went to change. When she finds the dead dancer's corpse, The Night Killer slits her throat takes his fucking time chasing her off the top balcony of the theater where she plummets to her death. The chase takes what feels like an eternity as the director gasps for air and tries to scream while dramatically stumbling down corridors, up stairs, downstairs and eventually over the railing. It feels like an appropriate death scene for a theater major.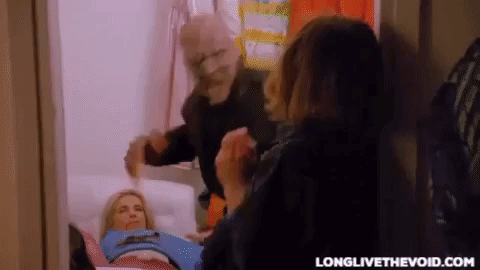 We are then treated to an opening credit sequence where a woman hands off her pre-teen daughter and her luggage to an unidentified man, then the man brings the little girl to who I must assume is his wife. Honestly, this happens over the opening credits and I have no idea who these fucking people are, how they're related or what the situation is. I assumed it was a pair of divorced parents and the little girl was going to spend the weekend with her Dad and her step-Mom, but we find out, later, that this is not the case at all. But this child hand-off opening sequences is totally baffling as there is no dialogue whosoever to establish just what the Hell is happening.
Turns out, the lady who just sent her daughter packing is our main character, her name is Melanie Beck (Tara Buckman, who you may remember as Billy and Ricky's slain Mom in the original Silent Night, Deadly Night) who eats what looks like an entire club sandwich for breakfast before lowering the neckline of her oversized sweater to stare at her tits in the mirror and perform the rare horror movie soliloquy about her marriage being on the rocks before being interrupted by a call from her ex-husband who she estimates is "drunker than usual" and explains to him that Clarissa has gone away to the country with Annie, so, again I must assume here that Clarissa is Melanie's daughter and Annie is possibly the woman we saw in the opening credits. It's strange having a movie that's so damn mysterious you have to try and figure just who the characters are. Anyhoo, the phone call with who might be her estranged husband ends with he her screaming "DON'T EVER CALL ME AGAIN!" into he receiver before slamming the phone down and her possible estranged husband shattering his glass in his hand and screaming "MELANIE!" We never see his face, as his back is turned to us in every shot he is in and his voice sounds a lot like the killer's. Could it be him?
Fast forward a second or two and she receives another phone call from the actual killer who tells her "You're a fine looking woman, Mrs. Beck. You're just MADE to be fucked senseless." and "I won't kill you straight away, first I'm going to fuck your BRAINS out!" She hangs up, calls the cops, but it's too late. The masked killer reveals himself to already be inside her home with the line, "I can't wait 5 minutes, Mrs. Beck, I'm too HORNY!" Melanie fights valiantly to kill the intruder, but it's no use. Once cornered, the killer reveals his face to her, not the audience, and we cut to a week later where she has amnesia and it turns out she was rescued offscreen by a man named Sherman, who is married to Annie and takes care of Melanie's daughter Clarissa. See, it's ALL coming together! Sherman even got a deep cut across his face for saving Melanie. And, for whatever reason, only Melanie can identify the man who held her captive for eight hours despite Sherman's face to face encounter with the Night Killer. I'm sure there must be some logical explanation for this, but being that this is a Claudio Fragasso film, you never know if this is a clue, a red herring, or just inept screenwriting and filmmaking, so everything is absolutely unreliable. We also learn from Sherman that Melanie's husband was booted off the police for undisclosed reasons. The plot thickens to the point of crusting over as it becomes unidentifiable!
Immediately after Melanie is released from the hospital an asshole in a jeep drives up next to her and begins cat calling her between taking swings of his 40oz. She flicks him off and speeds off, but he stalks her down to a restroom where she pulls a gun, makes him strip nekkid, and dump his clothes in the crapper. He runs out of the restroom and drops this incredible line of dialog…
Now, you might think this sweaty, bug eyed creeper with the incredibly active body language will never be heard from again, but this psychopathic stalker actually tracks Melanie down at the beach where she is attempting to kill her herself with a load of pills. This guy actually picks her up, carries her into the ocean, forces her head under water so she is forced to drink salt water so she'll barf up all the pills she just ingested. This moment of valiant and violent heroics is followed by this guy kidnapping Melanie and keeping her locked in a seedy motel room where he presents her with Kentucky Fried Chicken and French Fries "Nothing does it to me like friiiiied chicken!" before sticking a unloaded gun in her mouth and pulling the trigger and tying her down nekkid and making her say "Pretty Please" over and over again. This bug eyed, vicious rapist is named Axel (Peter Hooten from Orca: The Killer Whale (1977) and Inglorious Bastards (1978)). We are led to believe this guy is the actual Night Killer as we see THE Night Killer impaling voluptuous blonde woman at the local aquarium after hours and killing prostitutes in his art studio after they recite the fairy tale Little Red Riding Hood and then putting them in identical masks as him and making out with their dead bodies as Axel hold Melanie hostage. Are they one and the same? Are there two separate homicidal rapist scumbags running around this little city? I can only tell you that this film is so absolutely off the wall unpredictable and poorly put together, I doubt you will be able to guess every twist and turn Night Killer has to reveal by it's laugh out loud what the fuck conclusion.
Night Killer is actually a pretty impressively devious, dark, demented horror film that doesn't let logic or any for of real common sense get in the way of it's hysterically over the top, super imaginative, if completely illogical twists.  What really helps are the no holds barred over the top performances from the entire cast. Top to bottom, everyone is going for the gold and trying to sell this fucking movie. Sure, their performances are wacky and laughable…across the board, actually, as they try with all their mediocre acting might to pull of this ludicrous dialog. There are even some moments of genuine terror, especially during scenes between Melanie and Axel as the actors both play off one another really well. Every scene is pitched to the extreme and it's something that works in Night Killer's favor and makes the proceedings far more enjoyable and engrossing, even if it is in a laughably Trash Cinema way.
I understand writer/director Claudio's original vision was to make a psychological horror film with very little violence and gore, but the producers balked at the director's initial edit of the filmed and hired exploitation legend Bruno Mattei (director of Rats: Night of Terror (1984) and Strike Commando (1987)) to add some gore to the proceedings, hence, all the really out of place moments of Night Killer's claw punching through people. I honestly think the psychological horror elements are the strongest of the film. You can feel what Claudio was really going for with Night Killer and the gore elements always come off as out of place and make the film feel even cheaper than it obviously is.
This was my very first time seeing Night Killer and I was genuinely impressed by this trashy slice of cheese. It was not afraid to go to some pretty extreme places, took a lot of risks, and obviously not afraid to create a film that was absolutely baffling and send the audience through a dark, nasty tale without a map or even a compass. You literally are thrown in totally blind, with no clue as to who these people are, what's going on, what the time frame is or how things are connected and you are expected to keep up and fill in the blanks. And it works. It blows my mind to say it, but by the film's end, being kept in the absolute dark makes it all work. It's either really tricky and somewhat smart screenwriting, or it's absolutely moronic and they got lucky. I like to think it's the work or a Trash Cinematic genius. Let's face it, Troll 2 shouldn't work either, but goddamn if it's not one of the most legendarily entertaining Trash Cinema films ever made. Night Killer is cut from the same cloth and deserves just as much notoriety and recognition among Trash Cinema fans.
I am awarding Night Killer FOUR AND A HALF out of FIVE DUMPSTER NUGGETS.
Stay Trashy!
-Root