"Nothing's going to stop me from getting to The Caymans!" George Kennedy as Mike Harvey in Uninvited
a Primal Root written review
Man, what I wouldn't give for a trip across the deep blue sea in an enormous private yacht with a few bikini clad women by my side taking us all the way to the Cayman Islands for a bit of the old social distancing from a world falling apart at the seams. But, as it turns out I'm not a wealthy criminal scum bag, so this will have to remain a fantasy rather than beautiful reality. Thank goodness there are movies like 1987's direct to video schlock classic, Uninvited, to help indulge me in this minor dream of paradise. Well, except there happens to be a radioactive mutant cat on board that's vicious and has a bite that's fatally poisonous and there is a trio of criminals running the yacht as fast as possible to the Cayman Islands in order to pick up a ton of money they garnered from their illegal white collar crimes…Okay, besides the boat, the trip and the bikinis…and possibly the fresh fruit platter in one of the early scenes, there's very little this movie has in common with my current quarantine fantasies.
Anyhoo, Uninvited was directed by none other than the legendary master of low grade cheese, Greydon Clark, who is a familiar name to any trash cinema connoisseur or Mystery Science Theater 3000 fan, having lended is immeasurable skills to such classics as 1979's Angel's Brigade aka: Angel's Revenge, the 1985 Joe Don Baker vehicle Final Justice, the 1983 arcade sex comedy Joysticks and the 1977 Satanic classic, Satan's Cheerleaders, so you know what you've signed up for if you're sitting down for a viewing. The rest of you better hold on to your pussies.
The film begins with the opening credits unspooling over some guys in lab coats waving a syringe around a fluffy British Shorthair kitty. They inject the cat with some mysterious radioactive elixir and can makes a break for it out the OPEN DOOR to their top secret experimental laboratory. The kitty makes it's way to the stairwell where it barfs up a monstrous, bigger, poisonous version of itself, which lays waste to a half dozen gun toting security team guys sent to capture the kitten, leaving the stairwell walls covered in blood. The mad scientists grab their guns and try to track the cat down in the parking garage only to be ripped to pieces before the cat gets into the air duct, unscrews a grate and escapes to the streets.
Meanwhile, two incredibly fuckable young ladies, Suzanne (Shari Shattuck from 1989's Death Spa) and Bobbie (Clare Carey from 1988's Waxwork) show up to a fancy pants resort and are immediately spotted by wealthy criminal business man, Walter Graham (Alex Cord, probably best known for the TV series Airwolf) who buys the two ladies dinner then invites them to a private party on his yacht. Of course, the guy has money and has bought them food, so they are more than eager to slob his knob and live the highlife for a bit until Captain Moneybags grows tired of them and throws them overboard for a younger model. First, Graham must have a business meeting with his goons, Mike (George Kennedy, from The Naked Gun and Just Before Dawn) and Albert (Clu Gulager, from Return of the Living Dead and A Nightmare on Elm Street part 2: Freddy's Revenge, who is wearing a really goofy set of Bubba teeth in this role which really sells his…colorful character) so they can drown a business associate in the yacht's hot tub.
In the meantime, our poisonous mutant cat is roaming all over town murdering assholes, which seems to be the plague cat's M.O. The kitte seems friendly to those who feed it, but takes pleasure in dealing out violent, bloody radioactive death to those who hurt those who are kind to it. Several scum bags end up shredded to ribbons, poisoned an/or exploded in their cars before the kitty makes it's way towards the marina where Graham is docked…
Cut to the next morning where we are introduced to three dorky guys sitting at the same marina where Graham has his yacht and Suzanne and Bobbie are staying. These three dorks are Martin, Lance and Corey.  Martin is a biologist, Corey a yuppie and Lance is just a huge dork in a Hawaiian shirt looking to get laid. They sit around sipping orange juice until Suzanne and and Bobbie show up in their fetching bikinis and invite them to join them onboard Graham's yacht for some fun.
Okay, I have a few issues with this already. Not with the cat barfing up a furry, fanged, radioactive monster, but with the human interactions on display.
Number One: When does this ever happen? Two women make a b-line straight to three obviously horny doofuses and invite them to party with them? No names exchanged, no greetings, just "Hey, you're cute, want to party and protect us in the case a millionaire criminal might possibly decide to assault us? " They actually mention that, by the way. "You look like you'll be able to protect us if Graham tries anything." Huh? Who are you and what are you talking about?  Are you paying us? Are you prostitutes and we're having to pay you? What is the situation, here? At least tell me your name before we head to some strangers yacht! Which brings me to…
Number Two: Who in their right mind invites strangers to the abode of someone you've just met? Without even clearing it with them! This is the epitome of shitty manners which shows no consideration and total disrespect for the person who extended their hand and invited you and your friend, and only the two of you, aboard their yacht. Imagine you've invited just a friend or two over and without telling you they invite a group of folks over to your house that you do not know and just show up with them. Not asking you, just showing up at your house with strangers. It's a fucking jerk thing to do and I already can't stand anyone in this movie.
Number Three: WHAT ABOUT THE PRIVATE PARTY! There's all this talk and build up to the awesome party on this yacht and WE NEVER GET TO WITNESS IT! Apparently it's going to be this blow out event on the yacht, probably with booze, debauchery, topless ladies, donkey shows, etc. But the audience is not important enough to join the festivities. We just weren't sexy enough to invite. Fuck these guys.
Anyway, on with the review.
Of course, the eager young guys accept the invitation and head out to the rich guy's yacht with the two bikini clad beauties, one of which discovers our dangerously cute and cuddly radioactive science experiment monster cat at the marina. Suzanne clutches the kitty against her ample bosom and decides the kitty is coming aboard Graham's yacht for the pleasure cruise, despite the cat obviously not wanting to go anywhere, let alone be held, as it squirms desperately trying to get out of Suzanne's bubble blonde clutches. Young biologist Martin notices the kitty has a testing facility tag on it, but tosses it aside assuming the cat is fit as a fiddle and SURELY hasn't been experimented upon with some terribly virus or toxic chemicals that will kill himself, his friends and these bodacious babes. We're young, YOLO, let's get this party started!
We learn quickly from the yacht's young captain, Rachel (Toni Hudson from Leatherface: Texas Chainsaw Massacre III and School Spirit) that during the party we never witnessed, Graham lost his temper, berated the crew, and they all quit except for her. Which works out well, since these new, uninvited guests climb aboard THEY can earn their keep by being the new crew as they flee for The Cayman Islands as Albert delivers the news that The Feds are closing in on the yacht! So, this motley crew or young kid who just want to eat, dance and fuck, the old geezer criminals who cannot stop talking about getting to "The Caymans" and the poor little captain with heart of gold and a deep desire to own the yacht that once belonged to her Father but was purchased away from the family by the evil, greedy, Graham, tries her best to keep all this shit under control.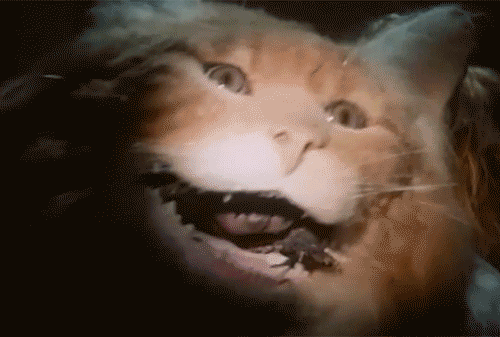 But it doesn't take long for it all to go right to shit as Albert takes over Captain duties for about fifteen minutes in which time he manages to get wine drunk and take the whole voyage way of course before spitting wine all over the monster kitty and paying the ultimate price for his rudeness when the little kitty opens it's jaws and lets out the malicious mutant cat…living in it's stomach? The science really made abundantly clear, but Albert gets a good potion of his throat stripped out, but what remains begins to pulsate violently before he falls overboard to become shark food. Soon, the trip to The Cayman's has been delayed as Rachel makes the call to go back and look for Albert, which lead to Mike pulling a gun on all these"young punks" and proclaims "NOTHING  IS GONNA STOP ME FROM GETTING TO THE CAYMANS!" before the vicious monster cat nearly bites his foot off. Mike lays on the couch for a while as everyone screams at each other, which is hysterical, because all through the scene you hear George Kennedy's deep voice moaning and groaning as everyone else argues and it sounds just like he's getting an incredibly good blow job just off screen. That is, until his stomach starts pulsating and something starts emerging just beneath the skin. The entire group gathers and huddles real close over Mike's warped body as something inside his stomach begins rising up like an eternal boner, and it looks like we're about to get another Alien chest burster sort of scene, but Mike dies, the internal stomach boner subsides and we are left wishing we had gotten to see a blood geyser and head into the rest of the film feeling more disappointed than we were when we missed the yacht party earlier in the film.
The monster cat is known, the remaining crew of the SS Evil Pussy is dead in the water after the engine over heated and shut off, emotions are running high, food and fresh water are running out and it's only a matter of time until the Toxic Kitten…starts to get hungry…
Uninvited is a shockingly fun little monster movie which relies heavily on it's great cast of talent who genuinely make the film way better than it has any right to be, selling a killer rubber furry cat monster puppet like it we JAWS. It's goofy fun that doesn't make a lick of sense, but as the characters grow more desperate an unhinged aboard their stranded, doomed yacht, their performances really come to life and they totally sell their dilemma, which I know few of us have ever experienced in real life. The effects are rudimentary, but add the charm of the overall experience, which I can guarantee, you will never go through outside of Uninvited. It's a one of a kind horror of the high seas survival film with an obviously minimal budget, but a cast and crew willing to go the distance to deliver. Only drawback, and it's one of the greatest detriments to the film, the are absolutely no tits in this film. None of the actresses are willing to bare anything in this low rent straight to video horror film. I turned to my wife about three quarters of the way through this flick and mentioned it, "Man, I honestly don't think we are going to see a single bare breast in this thing!" Sure, the girls tease the boys and the audience with the promise of tits to come, but the moment never occurs. And honestly, I almost didn't notice because the movie is such a strange voyage into absurdist horror that I was thoroughly entertained to the point of not really caring. I wanted to see where the story was going and what was going to happen to this lively group of teeny boppers and AARP members with the pussy punisher roaming freely aboard the ship. For a films to have me nearly forget about boobs is a pretty amazing feat. Plus, there is something eternally endearing about watching cats terrorize and kill people.
I am awarding Uninvited with THREE AND A HALF out of FIVE Dumpster Nuggets.
Uninvited is a furry, slimy, straight to video trash schlock fest well worth the voyage. I do recommend if you've got a fondness for puppets, great character actors and sense of adventure. A sense of humor will also help you out tremendously. Half a nugget eduction for lack of nudity.
Stay Trashy!
-Root