a Primal Root written review
"I haven't been this nervous since I've been black!" – LaWanda Page as Elsie in Mausoleum
Marriage can be trickier than the Double Dare obstacle course. Yes, it is fun and there are prizes, but you can also end up covered in bizarre substances that are somehow both liquid AND solid and are probably rancid and no matter how many times you reach up that giant nose willed with bright green frosting snot you just CAN. NOT. FIND that fucking orange flag to move on to the brown icing slide! Sure, it should be a piece of cake, but when two people come together and make the decision to spend their lives with one another, they also bring with them their lifetime of emotional baggage as well that shaped them deep down into who they are today.  That stuff will manifest and a test of the strength of a marriage often boils down to how both partners in the relationship react to these issues when they manifest. We all have our demons. And then there's Susan Walker Farrel and the literal malicious, flesh carving, pussy popping demon residing in her cerebral cortex.
That's right, at a very young age, Susan (Julie Christy Murray) loses her mother and is so traumatized  by the loss she decides to take off in a sprint from her Mother's funeral (whose only attendees were her and her Aunt Cora) and seek solace within an old mausoleum which produces it's own yellow steam and is lit up like cheap haunted house inside replete with lightning and thunder effects despite it being a sunny, gorgeous day outside. If you ask me, there might be some deep symbolism here that this mausoleum represents the place we try to lay to rest and repress traumatic memories where we hope they will be forgotten the rest of our days and we can pretend it never happened. Okay, yeah, probably thinking far too deeply into this monster movie, but at least I like to think the creative minds behind Mausoleum are trying.
Susan goes into this mausoleum, removes a crown of thorns from a tomb filled with glowing fog and something living within…something…with razor sharp claws. Bestowed upon Susan are telekinetic powers which make her eyes glow neon green, which she puts to work immediately when a homeless man enters the same mausoleum to see if she needs help. Being a strong, independent person who needs no help, she proves this point by psychically exploding the top of his skull off and squirting out a nice gush of brain matter across the Los Angeles cemetery as he is running away in terror. Teach that mother fucker to ask a woman if she is in need of assistance. Susan bows to NO MAN!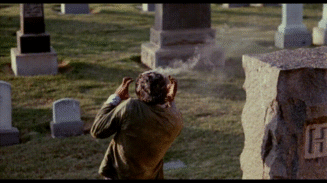 Fast forward twenty years or so and Susan (Bobbie Bresee, a blonde, voluptuous, mature bombshell from Surf Nazis Must Die and Evil Spawn)  is married to the lovable Oliver (who is played by Marjoe Gortner whom Trash Cinema fans will probably recognize from 1978's Star Wars knock off Star Crash, but was also the subject of the 1972 documentary Marjoe, an expose on the business of religion and a documentary about Marjoe's upbringing as a child evangelist preacher, it's pretty outstanding and led to a life of eclectic Trash Cinema roles, such as Mausoleum, here…anyway, I digress… ) and they are living their best lives in a fucking ENORMOUS mother fucking mansion for just the two of them in the middle of nowhere. I believe this was early 80's middle class living…
Susan and Oliver decide to go to a local dance club to have a few drinks and dance the night away! They're not there five minutes before some drunk off his ass, Kenny Rogers doppelganger begins rubbing his only slightly unflacid tube steak all over Susan on the dance floor, rudely interrupting her and Oliver's fantastic middle aged white person disco gyrating thereby nearly leads to fisticuffs between to two 1980's prototypical male suitors trying to flaunt their stuff for Susan.  Cooler heads prevail as Susan and Oliver head outside, but the drunken beardo stumbles outside, belching, farting and fondling around in his pockets for his keys. He makes the mistake of bumping into Susan and Oliver before getting into his sagging piece of shit Chevy and…Susan's eyes go bright green as the Kenny Roger's look alike get roasted alive in his own car as Susan psychically sets it alight! Oliver tries to save the drunken moron, but to no avail. The car explodes like a tater in the microwave and the charmless scumbag is now a smoking husk.
Aunt Cora (Laura Hippe) is becoming anxious about Susan's well being as it is soon to be the anniversary of Susan's Mother's demise and she also has a lovely, leather bound book all about the Nomed Family history that spells out demon possession and blood rage for every woman in the Nomed family at the point in their lives. Aunt Cora pleads with Susan's therapist, Dr. Andrews (Norman Burton) but it falls on the deaf ears of science and he refuses to believe there is anything wrong with Susan besides the lingering trauma of Susan losing her Mom at such an early age. But it isn't long before Susan begins her demonic midlife crisis when one morning the couple's lecherous gardener, Ben (Maurice Sherbanee)  starts moving in on her and getting VERY sexual harassment/rapey when he notices Oliver is gone for the day.  It's like flicking a switch, Maurice is allowed in and she is immediately terrified of him and cowers away. But then, as soon as Ben leaves to go chop the shit out of a stump with an axe,  Susan gets those sexy glowing green eyes again and decides to go upstairs and get totally nekkid for the audience, and Gang, Ms. Bresee is stacked like a can of Pringles. She then puts on a towel, heads out to her balcony, makes sure to get Ben's attention…AND DROPS HER TOWEL AGAIN revealing her lovely mammaries. Now, I have to ask, why the towel? I guess it was to hide her bush from the camera on the six foot journey over to the balcony, but she isn't shy about showing of her hedge maze later in the film! Again, thinking far too much into this movie…
So, of course, Susan fucks Ben's brains out in the garage a time or two (excellent stamina, Ben, you over the hill rapey gardener, you!) and then proceeds to till Ben's head and chest regions with a rusty hand rake, spraying blood and gore all over the garage and strategically placed U-Haul packing blankets that are no doubt also covered with the steadily crusting sloppy pleasure plunger drippings from their recent concrete floor garage sexcapade. So long, Ben, you were a piece of shit and a terrible landscaper as evidenced by a montage from earlier showing him eating lunch, spitting on his tools and sleeping by the couple's enormous private lake.
The next morning Aunt Cora heads over to the house with some paperwork pertaining to Susan's inheritance she is due to receive now that she is thirty, of course, she finds Susan upstairs totally transformed into a hideous, glowing green eyed demon! Susan levitates Aunt Cora over the railing from their third floor bedroom and uses her telekinetic powers to rip poor Aunt Cora in half. You don't get to see it all, but the effect is pretty brutal, none the less, as Aunt Cora's chest begins to slowly but surely come open. It's pretty fucking mean and I have no idea who Susan kept blood from getting all over the plush carpeting downstairs. I suppose we can just chock it up to the powers evil. Evil makes everything possible, doesn't it?
That night Oliver wakes up to find his wife sitting in a rocking chair in their bedroom fully transformed into the hideous she demon and, instead of screaming in abject horror at the absolute, unspeakable nightmare that this reality would be to wake up to, he quietly sneaks out of bed and heads down to their posh basement bar to call Dr. Andrews and calmly, casually discuss the fact his wife suddenly has glowing green eyes, the complexion of an enraged hemorrhoid,  and a gob full of shark teeth forcing her to be a drooling mouth breather, rather than grabbing the keys, bolting out the door and driving off into the sunset at top speed to start a new life with a woman who ain't in league with Satan. As you might expect, the doctor says there's no such thing as demons and asks Oliver to tell Susan to go see him. Which he does, and Susan agrees. The next morning, their housekeeper, Elsie (LaWanda Page) heads upstairs to check on Susan only to find the room glowing green and the fog machine on overdrive. Elsie, rushes downstairs, takes a couple shots of "the good stuff" which she hasn't had a drop of "since she found religion" and mentions "I haven't been this nervous since I was black!" Both humorous and strikingly poignant bit of dialog reminding us of the dangers of simply being African American in our society, even in 1983. Elise downs her liquor and proves herself the only sensible soul in the movie and heads for the hills never to be heard from again and, I presume, is living the good life on her own private island in the son. Elsie, we hardly knew you, but you brought a special light into our lives through the schlock shake that is, Mausoleum. We bid you, adieu.
During her trip to Dr. Andrews Susan undergoes hypnosis. After a pretty impressive breakdown over her Mother's death proving those cars are still pretty deep and easily torn open, the demon emerges and Susan transforms right before the doctor's eyes taunting him that "I WAS HERE THE WHOLE TIME AND YOU NEVER KNEW!" Needless to say, those green eyes, freaky face and gnarly ass teeth make a quick believer out of Dr. Andrews. Believing this is no longer a mental illness medicine can alleviate, Dr. Andrews researches the family history in that handy dandy leather bound book poor, old, ripped into pieced Aunt Cora gave to him earlier in the film, and it turns out every first born daughter of the family Nemod (IT'S DEMON SPELLED BACKWARDS! THIS IS THEIR KINGDOM!) and, in the meantime, Susan decides to kill another landscaper she seduced into their mansion with her boobs and then telkinetically crushes his skull which squirts out one of his eyeballs into his hand and leaves blood all over the kitchen for Oliver to clean up when he gets home. Seriously, Oliver doesn't even really question the blood, just whether or not Susan is okay. She shrugs of the blood all over the kitchen and says she's too tired to discuss it and goes to bed. Oliver seems okay with this somehow…
Susan steals a painting from the mall after levitating the gallery's owner from the top floor of a mall and impaling him on an umbrella below before heading home to take a bubble bath and sweet talk her perturbed husband and treat us to some slightly hidden full frontal nudity before transforming and giving us full frontal she demon action and revealing her gnarly, flesh hungry demon tits! Will Dr. Andrews make it to the stately mansion in time to put an end to this foul demons reign of gore drenched terror or will Susan be lost to the ancient inherited evil forever? Also, enjoy one head scratcher of a twist int he last shot of the film. If you have any theories as to what that final shot means, please, let me know in the comments. Thanks in advance!
Mausoleum is silly, schlocky and often hilariously over the top and bizarre. It plays like a really well constructed carnival fun house with plenty of fun visual flourishes, imaginative gore and make-up effects as well as a cast who takes the whole story and their performances seriously. It all adds up to a highly enjoyable, well produced but very bad and highly pleasurable piece of Trash Cinema. It has everything you could possibly want, Blood, Breasts and Beasts, a stable of actors willing to give it their all despite how silly it all is and they end up looking and a story that tries REALLY hard to bring some new shit to the demon possession table and sometimes manages to pull it off. I love the idea of burying your emotions and never truly expressing them or letting them out can manifest into something absolutely horrible later in life to the detriment to everyone around you. I mean, who the Hell knows if that's what filmmaker Michael Dugan of Super Seal (1976) and Raging Hormones (1999) fame or writers Robert Madero (Camp Utopia (2002), Battered (2014) had in mind, but it feels like they were reaching for something legit to say with this film. But whether you want to read into this thing or not, it's filthy, freakish pleasures will be enough to sustain those looking for a simple, mindless, cheap thrill heavy trip through the spookhouse. Mausoleum is a strange horror film oddity that's well worth raiding the crypt for.
I'm awarding Mausoleum FOUR out of FIVE Dumpster Nuggets.
Stay Trashy!
-Root